Introduction
Block: Security (Link: Technology)
Block: User experience (Link: Corporates)
USP: 4x (Level security, Price etc.)
Mini blocks: Corporates categories
==
We know…
<<Horizontaal met icoontjes>>
… companies are attacked dailyon their company and clients assets
… the kind of security issues online/mobile banking bring along,
… what your current solution means in terms of security and user experience,
… what all this means on your client retention, sales and services,
… current solutions have a high cost impact.
<PLACEHOLDER ANIMATION>
Ubiqu combines the best of both worlds
Authentication tokens without hardware are generally cheaper but also less secure. Hardware tokens with secure elements, on the other hand, are very secure but also expensive and not always user friendly. For example the tokens used by Banks do not prevent users against specific attacks and its user experience is bad.
Ubiqu broke this security paradox by providing a secure mobile solution with great user experience and not compromising on digital security. We even managed it to provide security against Man-in-the-Middle and phishing attacks.
<VISUALS>
Ubiqu has the only technology in the world that creates a secure link between mobile phone and an external secure element. Companies that integrate or use our solution can even get a ISO Level of Assurance 4 certifiable authentication. Something unique and proof of our one of a kind digital security standard.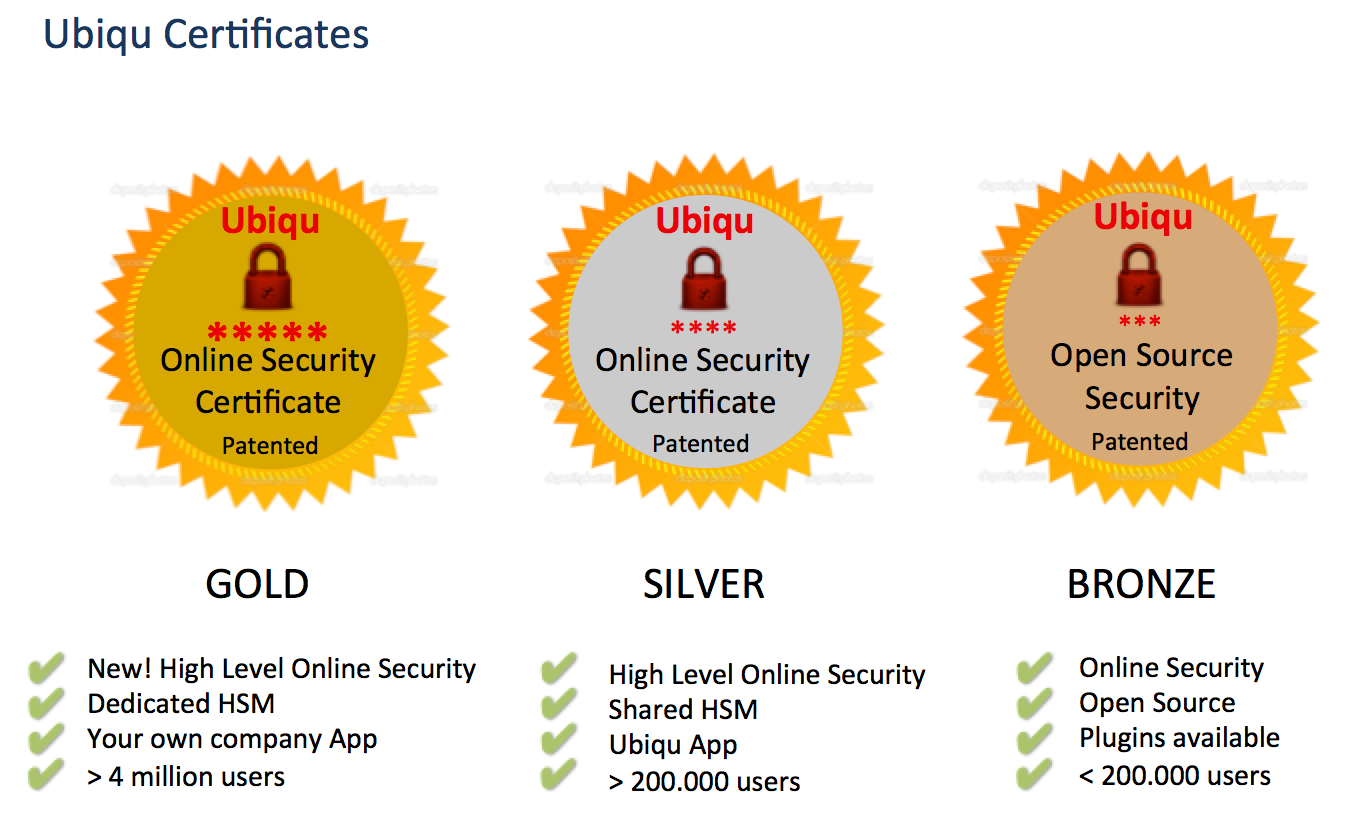 So in short, you wish to provide you customers or employees the best and secure mobile security solution we manage their access anywhere!
You are…
Photo 1: Large Client Photo 2: Mid-sized Photo 3: Small Photo 4: Consumer
intro text + link to Corporate Pg
<Get our free Demo>
Want to find out more about our technology Quick Links:
<icon> Technology <products> <product cards>
<icon> Q&A <developers>
Contact details